Unfortunately the trend of knife attacks and violence blights our safety. Tower Hamlets Council has already carried out weapons sweeps on July and again carries out these sweeps in the coming weeks.
But, why not give knife owners the chance to voluntarily deposit knives in save locations, knife bins, as they are used in a lot of boroughs in inner London. See locations
These bins help knife carriers to make a decision to safely dispose of their weapons instead of just keeping them at home or even dropping them into undergrowth to be found and to be dangerous to all.
I will be forwarding this email to all councillors and those responsible for decision-making in Tower Hamlets for consideration, and ask you to discuss the issue with your local councillors and neighbours too.
I have also completed the latest Home Office survey to request more action on combatting violence in the borough. The Home Office has already agreed to supply more Hot Spot policing, which is necessary as currently our SNT officers are used to make up numbers and therefore not available to deal with other crimes or patrolling our wards.
Recent events have shown that we need to step up participation in Neighbourhood Watch. I have asked our new Inspector for Safer Neighbourhoods, Ashley Rose, for a meeting in person in a police station in Tower Hamlets and will be inviting our members to attend.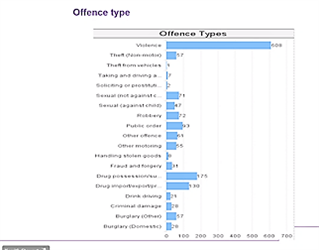 The latest statistics from the Probation Service show a clear correlation between offenders having violence as highest convicted offence and the number of offences committed being mostly violence.
The new Ward Panel handbook of the Met Police states that one of the three Ward Priorities has to be violence combatting and can be set by the police.
Ourwatch is listed as official Neighbourhood Watch partner in the Ward Panel Handbook on page 9, please share this email with your neighbours and invite them to register on Ourwatch. Follow us on Twitter
Please feel free to contact me with ideas and queries.